Thursday, January 29th, 2009
---
2:05 pm
Little kids have germs.
We all know that, but really I feel like I am completely surrounded by them this week.
So far, three kids in my class have had pink eye in the short week and 1/2 I've been student teaching. I can NOT get pink eye, therefore soap and I have become very good friends.
Still, I have managed to develop a cold/stuffy nose/cough thing.
I also can NOT miss student teaching or actual work, so this will be interesting.
Tomomorrow though is a short day (Staff Day) so I will have most of the weekend to rest and even though I'm working at Hallmark 8 hrs Saturday and on Sunday, I am still hoping to take it esay there.

Yea, we'll see how this works out.

current mood:

sick
Tuesday, January 6th, 2009
---
5:32 pm
- 2009
2009 is def. going to be a year to remember.
I have been waiting for this year since i graduated high school in 2004.

This is the year I graduate college - REALLY graduate and finish my master's program which begins my career as a teacher this fall.

Little did I know that by this year I would have also decided to become a mother on top of it all! I can't wait until June/July hits and I can meet my child.

I will be student teaching this Spring semester...something I am very nervous AND excited about at the same time.

This year will bring everything I hoped for and so much more...including a good steady paycheck :)
I am so happy it is FINALLY 2009!

current mood:

excited
Thursday, December 18th, 2008
---
10:12 pm
- nightmare playgrounds
ok so this is weird and random, but i'm sharing.




http://www.darkroastedblend.com/2008/02/nightmare-playgrounds.html

If you have a few minutes to spare, visit this gallery of "Nightmare Playgrounds" (click and scroll down to see images). The pictures, mostly of surreal sculptures built in children's play areas in Russia and Eastern Europe (as well as the United States), are as fascinating as they are creepy. Some are just weird, but others are sad becuase you see the place is short on money, but it is still interesting someone would choose to place that particular design or sculpture in a public area.

current mood:
curious
Sunday, November 2nd, 2008
---
8:20 pm
- big news!
As most of you have heard.
I JUST found out I am pregnant.
We really wanted a kid but this was a surprise to us as well.

I'm only 5 weeks and David's dad has announced the fact to our entire church congregation.

I think a lot of people are worried about the quick/early announcement.
I mean heaven forbid, but there is always a chance of a loss, but we've weighed that outcome and decided to take the risk and really there was no stopping the news once all the parents found out!

For anyone who hasn't heard these are the names:
girl: Rebecca(Rebekah) Rose. The spelling is under discussion. :)
boy: Jordan Carter

Alright well, I just had to write something about that and please don't feel bad if you found out via facebook or myspace or here...I'm just as nosey as anyone on the internet.
I wouldn't post it or comment it if I didn't want someone to know :)

Oh and thanks for all the congrats everyone! I have heard a ton!

current mood:

thankful
Wednesday, October 29th, 2008
---
6:41 pm
Thursday, October 23rd, 2008
---
6:25 pm
- WKW!
I think in all my years of writing in online journals and blogs I have neglected to share one of the highlights of every Fall season: Wild Kingdom Weekend

This is a trip our church youth group goes on each October.
It usually always rains and it is always freezing oh and we actually camp, which means we are in TENTS. The tents alone are an adventure for me and yet I keep going and so do all of us every year.
Everyone there from like 23 and under will participate in teams.
There is about 4 or 5 teams and we play games against each other or are involved in challenges like building the best church out of things we find lying around.
Feezing and wet, we have the best time and come back sore as anything and we still love it :)

You can also see videos at youtube.com. Search "wild kingdom weekend"

Anyway...I am going THIS WEEKEND!!
So I will have tons of fun and freeze! Wahoo!

current mood:

ecstatic
Friday, October 3rd, 2008
---
11:07 pm
- loss
so it has been about a month since i lost my dog and i have JUST stopped doing weird things I did when he was here, for example:
- when talking to david on the phone I might say, "so how are the dogs, not just dog"
- or when i let the dogs in from out side i call, "come on buddy"

Just stupid things like that...but I am better now :) it's just kicking old habits.

----------------------------------------------------------------------------

Our family members, Uncle Mike and Aunt Debbie, lost their dog shortly before Buddy.
They then bought a puppy and then lost the puppy a few days later to parvo, a puppy disease.
It was very sad.
Tonight my brother-in-law's dog is at the animal hospital.
It is odd this is all happening at the same time

I have always believed that God has us deal with death to make us stronger.
The death of pets may prepare us for a more intense loss or situation in life, so I am really worried that if that's true what on Earth is God preparing us for?

current mood:
complacent
Thursday, September 4th, 2008
---
12:05 am
- buddy
My baby passed away today.

Buddy had found a way out of the backyard today. He was out there for about 5 minutes when we realized he had squeezed out the back gate. We started searching.
Then a neighbor told us she had seen a dog hit by a car on lynnhaven pkwy. Another person, not the one who hit the dog, had taken Buddy to an emergency vet. We quickly got in the car and drove to the nearest emergency vet where we found Buddy...in cardiac arrest.
He fractured his pelvis in 4-5 different places and his lung had collapsed.

They did all they could, but I still can't believe he's gone.



(

BuddyCollapse

)
Sunday, August 10th, 2008
---
5:29 pm
- i'm back/done!
i haven't posted in a while
this is why:
FOUR WEEKS at the Child Study Center in Norfolk on ODU's Campus.
Basically, it is a pre-school/daycare owned by the college.
I spent Monday-Friday for 4 hours each day there, 8am-12pm.

The ages were 3 and 4 and a couple of 2-year-olds. I learned A LOT about kids, but man was I wiped out. At some points I didn't think I was going to make it. I was so tired and we had to plan lessons, which I had very little time to do. I think I could have enjoyed it if I wasn't working 8 hours afterwards each day, but I really just want to tell you guys IT IS OVER!!!!! Praise God!

Also, I am going to Water Country USA THIS Saturday for the first time ever!
I am sooo excited!!! :)

ALSO, If you haven't tired the three new mountain dew drinks, they are AWESOME!
The dark blue one is the best...me and candice are addicted :)

current mood:

relieved
Monday, July 7th, 2008
---
11:35 am
I finished my Summer classes.
Got A's in both of them (yay me!)

I saw a lot of movies lately.

Get Smart:
Surprisingly better than I expected. Still has the dumb, he fell so let's laugh at him humor, but I enjoyed it. I like Anne Hathaway a lot and except her short skirt at one point, it was a good movie. Clean, good family film, and I can't really say anything bad about it.

The Incredible Hulk:
ell, I saw the first Incredible Hulk movie not done by Marvel and well that simply sucked. This movie was MUCH better than that first attempt and if you are into comics and this scene I think you will enjoy it a lot. It was more about the story plot, not about a monster destroying thing, so I didn't even get bored with it.

Wall-E:
Yes, I saw it. Yes, it is a children's movie and yes there was remotely no speaking what-so-ever, which drove me a little crazy. Wall-E says either his name or Eve's name. Eve says very few and far between short phrases. Basically, the verbal script for this movie was only one page long, if they even had to write it down. Other than that, very cute, message about destroying the Earth via our garbage and the importance of eating right and exercising. Don't hesitate to take any KID, although it wasn't a total waste on me.

HANCOCK:
I really like it. Most memorable line: "Goood Jo...b"
Although my brother says Will Smith ripped off Superman, I personally was never into superman and didn't take my eyes off the screen during this movie. Yea they threw in some pretty girl too, but Will Smith never seems to age. He just needs to avoid the facial hair at all costs. Great soundtrack...I won't buy it, but great for the movie.


If you are going to see one of these, see Hancock first :)

current mood:

mesmorized
11:29 am
What you've all been waiting for...
An update on the exciting life of Heather

I am currently on SUMMER VACATION. Yea, like no school during the Summer.
It is amazing. But it is only for 2 weeks and wouldn't you know it, David is GONE for 8 of the 14 days!! That makes me so angry AND Wednesday is our 3rd Anniversary and he won't even be here!

Well Happy late Fourth of July guys!! I hope it was good for you.
I spent the day at my parents and just hung out...saw no fireworks except for youtube where we watched the disney fireworks display and I totally was green-eye monster-ed at my friend Jacquie, who is at Disney as you read this.

I have been catching up with old friends though and just relaxing, hanging out at the mall and such.

current mood:

calm
Tuesday, June 24th, 2008
---
9:35 am
One of our good friends, Josh, created Tetelesti.ning.com
This is a version of myspace....trying to rid it of inappropriate pictures, vids, and hopefully hackers.

You may or may not be intersted but maybe someone you know is.

I am impressed at what he's done, so check it out when you get the chance :)

p.s. THIS WEEK IS FINALS, CANT WAIT FOR THEM TO BE OVER!!!

current mood:

proud
Friday, June 20th, 2008
---
11:47 am
- WAHOO!!
My Summer course are almost over.

They will be all said and done THIS THURSDAY.
And the only thing I will have to do this Summer, besides work, is do 4 weeks observing kids in the child study center. This should happen in mid to late July. So I will actually have a little vacation from school from June 27th to July 14th!!!!

The ironic thing is my friend, Jessica, will be leaving June 28th!!
Doesn't that just figure?!
But I still have others i NEEEEEEEED to see and feel horrible because I haven't had the time.

I am so utterly excited...
It has been so long since I had ANY kind of a break.
I don't know what I will do with myself, except swim at my mommy's pool :)

current mood:

ecstatic
Saturday, June 7th, 2008
---
9:14 am
I had two midterms this week.
They almost killed me.
They were both essay, every question. No fill in the blank, no multiple choice or matching, no choices of any kind. Just a lot of writing and I don't write a lot so I thought my hand would fall off.

I got 2 hours of sleep studying and I was utterly exausted the next day at work and still don't know how I functioned.
The good side to this is on Friday my 5th grade class had a field trip, so I didn't have to go observe and I didn't go to work until 3 so I got to SLEEP IN! I haven't done that in a long time.

This Sunday will be my first of many Sundays working, because I've run out of time to work.
I really don't want to work Sundays and don't ever advocate others doing so, but I guess you just have to do things you don't like sometimes.

Boo on being grown-up.

current mood:

blah
Friday, May 30th, 2008
---
10:10 pm
- "no fair"
I wish I could go fishing with my family tomorrow, but I have to work.

...That's all. :(

current mood:

crushed, depressed, sad, upset
Thursday, May 29th, 2008
---
10:10 pm
This is has been a very stressful time for me.

I graduated this month and yet all I do is homework, because of graduate school.
I think it is confusing my mind.

I went to the dentist, which I hate doing, and they took my blood pressure (yea, at the dentist) They were very concerned because it was pretty high, which worries me a lot.
I'm 22 with high blood pressure. So is David tho, and worse than me.
This is the only time I've had a high rating, so I am kinda thinking it might have been the fact I was at the dentist, which is somehting that stresses me out A LOT.

I am under a lot of stress tho. Most of my days look like this:
Elementary School Observing 7:00am-2:30pm
Work 3:00-9:00pm.
OR
Class 9am-12pm
Work 1:00-9:00pm

Ok enough of boring stuff.

I miss my friends. So hi to everyone I haven't talking to in forever!
Ami: I know I'm busy, I'm sorry.
I really want to have fun, just don't know when I can.
Jacquie: Good luck in Disney world. I know you'll be great. Miss you.
Megan: I hate that our schedules never match and well my free time being non-existent makes it a little harder. sorry...

Once these hard classes are ever I will make a much bigger effort to see my friends, meet up, or just call them. I NEED to make time for my friends like I would like them to make time for me...I know that. I just can't seem to do that.

Another medical issue: stress headaches, that's all I've been having...

*direct yourself to mood icon*...good night

current mood:
drained
Tuesday, May 20th, 2008
---
11:27 am
Mood: ANGRY!

I got up early this morning. We are talking 6-630 in order to get ready for my first day at Christopher Farms Elementary school where I am observing a fifth grade class for 75 hours. I got all professional looking, which is quite the challenge for me sometimes, and headed down to the school. I arrived early and was all on time and then I went to the office to sign in. Then my day fell apart. The lady behind the counter said I couldn't be there during SOL testing.

I had cleared a precise shedule with my observing teacher and we even talked about how I would be sitting there during SOLs.
The lady went to double check as I waited. She then told me the same thing again and said I could come back later. I then tried to call Mr. Kenison later in the day (about 1130am) and I was not allowed to call his class phone because the kids were testing still. So I left a message and am yet to hear anything.

On the up side I ran into Megan R., who I haven't seen in a year, when I went to the computer lab at VBHEC to get some work done. And then the other up side of course is that I got this work done.

I suppose there is a reason for everything, but come on.
I need to get these 75 hours over and done with before June 13th!!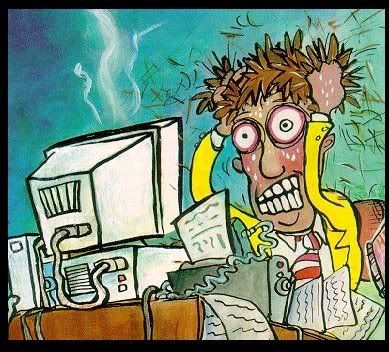 current mood:

angry
Saturday, May 10th, 2008
---
10:55 am
- Graduation!
"I am graduating today! Yay!"
-Candice after asking her what I should say about my graduation.

"When you take a picture after you graduate you should lift your arms in the air with victory" -my co-worker, Angie :)

*David opens graduation card from my grandma*
"Your grandma sent you a check for...WOAH!!" -David

"I am excited, but I can't believe I have to start Summer school on Monday" -me

current mood:

Graduated
Wednesday, May 7th, 2008
---
6:13 pm
- vacation...all i want
I GRADUATE THIS SATURDAY!!!!!!!

...just letting ya'll know :)

But I am taking a full course load this summer, which includes observing in another classroom for 75 hours before June 13th and the teacher I will observing called my on my cell phone YESTERDAY to see when I'd be in. They want me to start ALREADY when the Summer semester doesn't even start until May 12th. I REALLLY REALLY REALLY wanted a little Summer vacation...just a little. I am trying to still have it tho.

This week is MY week, not your's school, not your's.

current mood:

bombarded
Tuesday, April 29th, 2008
---
6:20 pm
I have four finals to go.
Two I have to take tonight. They are on blackboard, but I am doing this instead right now.

I graduate May 10.
Then Summer classes start May 12th.
I'm taking 12 credits this summer.
I feel like graduation is pointless now. I NEED a break, but I am not getting one.

Also, I need a new job remotely in my career field.
I am trying to apply for teaching assistant positions, but they are hard to come by.
And student teaching in the Spring is ridiculous: 40 hrs a week, NO PAY.
Why do they make it so hard to be a teacher?

Help.

current mood:

Bummed